Round Rugs: How Do You Clean A Rug?
Round rugs are all the rage at the moment as they can instantly create more comfortable surroundings, we love how a round rug has been used the bedroom setting below. However, the cleaning of rugs may not come high on the list of home cleaning chores. We strongly recommend that rugs are cleaned regularly as it can significantly extend the life of the rugs in your home, so how do you keep them looking their best? Read on to learn more about how to clean a rug the right way.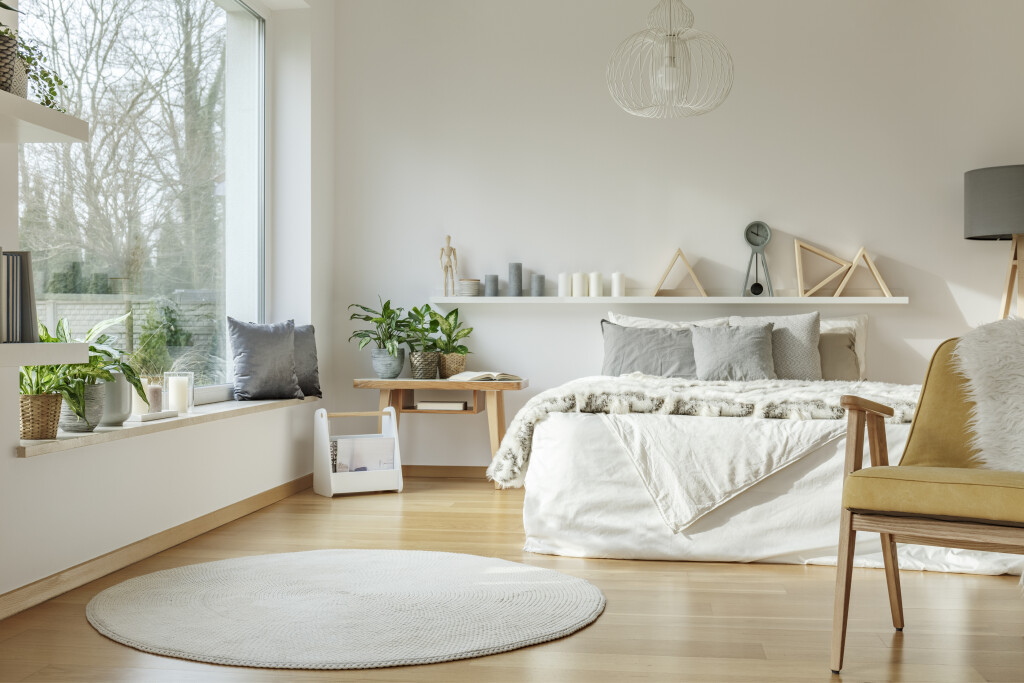 Cleaning a rug properly
Rug cleaning is sometimes not carried out as often as it should be. Cleaning rugs can breath new life into an old favourite, or keep a new rug looking beautiful for longer. Follow the steps below, but always refer to any guidelines supplied with your rug.
What you'll need
Before you begin, you'll need a clean bucket and either a soft-bristled brush or a sponge. You'll also need a rug shampoo or mild detergent, and some water. Try to pick a dry day so you can do the cleaning on a bench or wall outside.
Vacuum first
Vacuum the rug thoroughly on both sides to remove loose dirt and other particles. If there are animals in the house, you may need to use the brush attachment. For added freshness, you can sprinkle baking soda on the rug before you vacuum it.
Cleaning solution
If you're using a branded rug shampoo, follow the instructions on the bottle when mixing. Alternatively, a good squirt of mild detergent in a bucket of warm water will do the trick.
Colour test
If you're cleaning a coloured rug you need to make sure the colour won't run. Test your cleaning solution on a corner (or somewhere near the edge for round rugs).
Cleaning
Dip your sponge or brush in the solution, and work up a foamy lather over the surface of your rug. You should then leave for at least five minutes to allow the lather to begin pulling away the dirt.
Rinsing
To ensure there is no cleaning solution left in the rug, you will need to rinse it in clean cold water. You might use a hose pipe, bucket or clean watering can for this.
Drying
Use a wet/dry vacuum if you have one, or blot gently with a clean, dry cloth. This will remove any excess water. When drying, lay the rug flat and let the surface dry completely first. Then turn it over to allow the underside to dry. Gentle heat from a fan heater or portable radiator can help.
Vacuum again
The final part of the process is to vacuum the rug again. Alternatively, bring it back to life with your soft-bristled brush. Your rug should now look as good as new!
Rugs from the experts
Here at Carpet Connection, we pride ourselves on our knowledge and experience. Our friendly team have been supplying and fitting a wide range of flooring for our customers for over 25 years.  We offer a wide range of large, small, rectangular and round rugs to brighten any type of space. Whether it's contemporary colour or classic comfort, a rug can bring a room to life. Talk to our friendly team about the best rug for your home today.